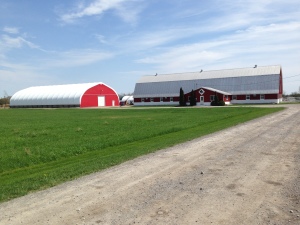 Indoor and Outdoor Boarding 
Contact Allan & Connie Burgess for details.
Cedar Rail Farms offers a top of the line boarding facility with 21 10×12  rubber matted box stalls. As well as a heated bathroom, change room, and tack room.
We have two riding pens including  an outdoor 80 X 140 riding pen and a 80 X 140 indoor riding arena, as well as an outdoor round pen, and marked trails for trail riding.
Stalls are cleaned daily and bedded with shavings. Fresh water and hay are provided in stalls and in paddocks. Horses are fed grain twice daily which is provided by owner. Small group turnout daily is also provided.
Outdoor board is also available.  Small groups with run in shelters.
We strive to maintain a clean and safe environment for you and your horse. We have over 40 yrs equine experience in a variety  of disciplines.  Not to mention we have a lot of fun here and the atmosphere is always a friendly and enjoyable one!  All disciplines welcome.
Offering both Seasonal and Full-Time Boarding
Monthly Indoor board – $400.00 per month (including HST)
Monthly Outdoor Board – $250 per month (including HST)
Blankets, boots, medicine etc are all an additional charge on top of board.
Arena Rental(for non boarders)=$25.00 per horse/per hour
TRAINING AND LESSONS = We welcome all instructors 🙂  And we have several Coaches here who offer lessons:
Tori Badham-Dressage/Eventing Lessons, torie.badham@gmail.com
Melanie Cressman- Western Riding Coach, 613-332-7196
Leslie Richards, Barrel Racing/Pole Bending, 613-919-2011
Please contact CRF for details on training and pricing. If interested in setting up lessons with one of the above coaches please contact them directly.